All-on-4® in Franklin, Brentwood, & Nashville, TN
Dr. Primm provides friendly and personalized full-arch implant treatment for his patients.
Enjoy an improved quality of life with All-on-4 New Teeth in One Day!
Are you tired of wearing implant dentures? Do you have teeth so broken down that you can't chew your food?
Dr. Primm uses the revolutionary All-on-4 procedure to provide full arches of aesthetic and functional new teeth during a one-day procedure. You can once again eat what you want and smile with confidence with new teeth placed in one day!
A fast & efficient procedure—all in one office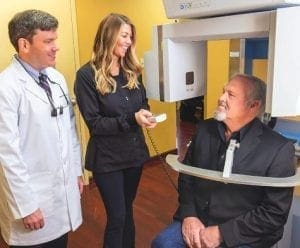 Dr. Primm takes 3D data collected with his CT scanner and uses it with special software to plan out your entire surgery in advance. In some cases, he even creates a surgical guide to aid in precise implant placement.
His detailed planning ensures utmost efficiency on your day of treatment. Dr. Primm does any needed extractions, places your implants and attaches your new provisional teeth—all in a single visit.
Once your implants have fully healed after a few months' time, Dr. Primm places your strong and beautiful new permanent teeth.
No bone grafting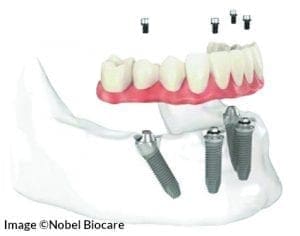 If you've suffered bone loss from missing teeth or long-term denture use, you'll be happy to know that bone grafting may not be needed with All-on-4. Dr. Primm uses his CT scanner to identify your areas of densest jawbone for implant placement. When needed, he places special implants that are angled in order to take advantage of this available bone; this can eliminate the need for lengthy and expensive bone grafting procedures.
Comfortable & affordable care
Dr. Primm takes the time to explain all aspects of treatment to you and makes sure to answer all your questions.
To allow you to fully relax, Dr. Primm uses IV sedation. This way, you can sleep through your treatment and awake with new teeth.
Dr. Primm keeps his rates affordable so you can take advantage of this life-changing procedure. We also accept many insurance plans and offer zero- and low-interest financing.